Connect and engage with the right audience, on the right platforms, with Facebook PPC and other social media advertising.
Social advertising has become essential to all social media marketing campaigns. In addition to driving growth and engagement for your social communities, paid social media advertising (such as Facebook PPC, Twitter, and LinkedIn advertisements) can be extremely effective for driving valuable traffic to your website that produces leads and sales.
Learn how to Thrive in the Digital Advertising World Today!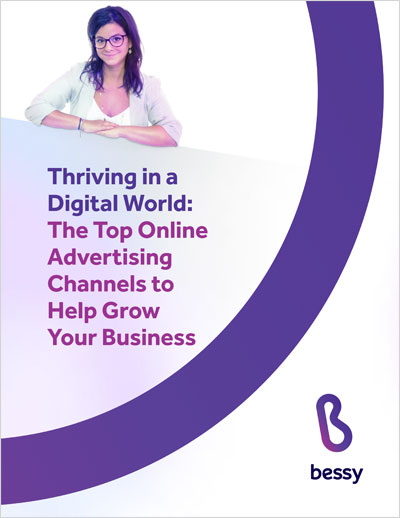 Looking for ways to grow your website traffic, generate leads, and drive online sales? Get my guide to the top online advertising channels to grow your business now.
Download Now!
Paid search wins on search-intent data, but paid social wins on collecting first party data, such as:
Demographics
Interests
Behaviours
And more!
This means that the data and targeting abilities within paid social media advertising allow you to reach niche audiences with highly tailored content—ultimately converting customers at a lower cost than traditional online display ads.
Bessy has exceptional digital marketing knowledge that she used to create, implement and manage many successful digital advertising campaigns. Bessy is very detailed orientated and values business analytics to help her refine and continue to improve marketing initiatives quarter to quarter.
Craig Hamilton
President
Unified Properties
My Approach to Facebook PPC and Social Media Advertising
Every paid social strategy is customized to propel the growth of your business. I begin by identifying your goals, target audience, and relevant social media platforms for your business. I also perform an in-depth competitor analysis. If you are running PPC ad campaigns, we can integrate your paid social media advertising in order to increase impact and achieve results. From here, I:
Identify targeting opportunities to reach audiences that are likely to convert
Leverage existing email lists and website visitor tracking to create "look-alike" audiences
Re-target to engage audiences who have previously shown interest in your product or service
Make paid content recommendations for Facebook Ads, Twitter Ads, LinkedIn Ads, and Instagram Ads
Integrate with PPC advertising campaigns to ensure cross-platform efficiencies and performance
Perform ongoing A/B testing to optimize your results
Finally, I work with you to develop a social media measurement model that will establish quantifiable goals tied to business success and proper tracking on your social platforms and Google Analytics. This model is used to properly evaluate the performance of each social channel, with the ultimate goal of up-scaling on the right platforms, while eliminating wasted advertising dollars.
The Benefits of Effective Social Media Advertising
With a properly implemented paid social media advertising strategy, you'll begin seeing benefits immediately, including:
Increased brand awareness and visibility
Growth of your social channels
Increased engagement with your social audiences
Driving qualified traffic to your site
Generating leads and sales
In short, I make more efficient use of your marketing budget, ensuring you're targeting your ideal audience, on the platforms they use the most.
Start Making the Most of Your O
nline Advertising Budget

Today!

If you're ready to take advantage of everything online advertising has to offer I can help. When you download your FREE guide, Thriving in a Digital World: The Top Online Advertising Channels to Help Grow Your Business, you'll learn which advertising channels to focus on in order to expand your customer base, how to maximize your digital ad budget, and more.