Become a digital leader in your organization with my digital marketing and Google Analytics tutorials.
Are you a senior executive looking to gain knowledge in the world of digital marketing? Do you not have the time in your busy schedule for extensive skills development? Or perhaps you manage a team of marketers with more experience in digital, and are challenged with evaluating digital marketing initiatives.
If these scenarios sound familiar, I can help.
Start Maximizing Your Google AdWords Budget!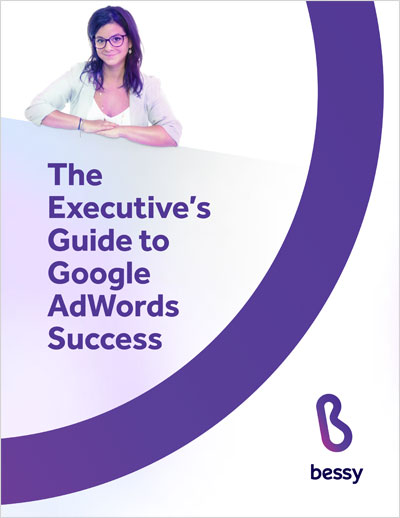 If you want to increase your PPC conversion rates, reduce your costs, and ensure your ads are seen by the right audiences, my Executive's Guide to Google AdWords Success is a must-read. Get your free copy today!
Download Now!
Throughout my 15+ years in the world of digital marketing and advertising, I've had the pleasure of coaching a multitude of senior executives on a variety of digital and web marketing topics. With my guidance, you'll have the knowledge you need to confidently challenge the status quo of your organization's digital and web marketing strategies.
One-on-one Digital Marketing Coaching Helps You Achieve Your Goals
I provide one-on-one digital marketing coaching on the following topics:
Search Engine Marketing (SEO)
Inbound Marketing
Mobile Marketing
Digital Marketing Strategy
In addition, I also offer Google Analytics tutorials and other customized training and coaching sessions based on your needs.
I've known Bessy for over 8 years now and working with her has always been a pleasure. Bessy has always proved to be a forward thinking, hard working individual and I have benefited greatly from her deep understanding and experience in digital marketing. I look forward to working with Bessy again.
Mladen Raickovic
Strategic Partnerships
Google
The Benefits of Executive Guidance and Internet Marketing Training
After our one-on-one training sessions, you'll understand:
The basics of digital marketing and advertising
How to effectively evaluate digital campaigns by knowing which metrics / KPIs count
The connection between digital advertising spend and the impact on your business bottom line
How to evaluate the effectiveness of each online channel, which ultimately allows you to invest in what's working and prevent wasted digital marketing spending that won't provide a ROI
Take the First Step Toward Becoming a Digital Marketing Expert Today!
The landscape of digital marketing is evolving constantly, and without guidance, it can be difficult to stay on top of things. That's where my FREE Guide Executive's Guide to Google AdWords Success can help. Inside, you'll learn how to make the most of your digital advertising budget. Download your copy today.